"Now Oscar is getting brave with a 135-pound fighter and is trying to convince everyone that it's a tough fight. He's getting brave with a great fighter, but a fighter who fights at 135 pounds. He wants to show the world that he can pull the trigger against a 135-pounder.

What a man! What a hero!

" Margarito told Espn.com today.
As usual Oscar has no response
except to beat his chest and tell everyone how brave guy he is when he took on Manny.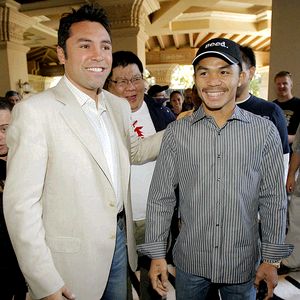 Obviously, Oscar's gun is only effective for small fighters.

De La Hoya

is

COURAGEOUS

indeed.
Of course, De La Hoya wants to pad his record a bit. After all, Margarito would crush him. At this phase of his life, he needs all the ego-boost he can have.

Don't get me wrong. Even if I'm against this fight, I will support Manny.

We will keep a close eye on this fight my dear readers 'til the end. Please continue to support this blog. Two days ago, it was confirmed that GMA-7 will cover the fight and I reckon the coverage will last the whole day or just four hours if we are lucky.


Images

Pacquiao -De La Hoya Banner designed by Nerod@philboxing.com
Pacquiao -De La Hoya picture by Espn