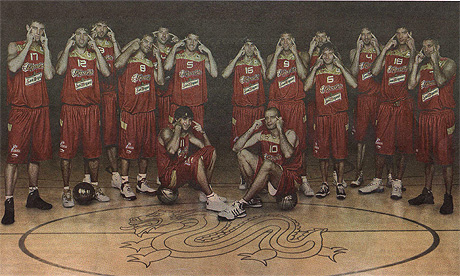 Spain's Basketball Federation has published a good luck advert for their men's team, the world champions, in which they stand pulling at the sides of their eyes in a slit-eyed gesture.
There is no obvious intention to upset their Olympic hosts in Beijing, but the irresponsible picture is likely to cause controversy and could be interpreted so as to lead to accusations of racism.
Spanish sport has been mired in rows over racism in the last few years. In November 2004 black English footballers were subjected to relentless

racial barracking

from home supporters in a match in Spain. Source
Defeated the Spaniards in Iloilo and established a Visayan Republic independent of Agui. My ancestors were smarter than the Spaniards give them credit for!

Just imagine living with these people for

333 years, our poor ancestors!

I hope the Americans will teach them how to play basketball this Saturday.


UNBELIEVABLE ERROR-FILLED REPORTING



The "journalist" doesn't even know where she was when a simple look at the map will reveal she's actually in Mindanao. Obviously, Television Egnorante (TVE) I mean Espaniola doesn't do fact checking hehe. If the supposedly intelligent Spanish reporter couldn't get her facts straight then their jocks are hopeless.