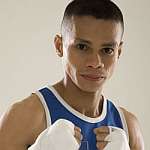 Silver Medalist at the last World Championship

The Philippines lone hope in the quest for an elusive gold medal in boxing at the Beijing Olympic Games faces a tough test in his first bout against 20 year old Manyo Plange, a member of Ghana's "Black Bombers" squad.
..
for full story
Who wouldn't? Harry Tanamor is our only chance to get a medal. I don't want to disrespect other national team members but this is the reality. I will not ask for much even a bronze medal is enough for me. I have already accepted that there is a 100% chance our country will incur another medal shutout but sometimes a little faith goes all the way. Oh please!
His match is scheduled on Wednesday 20:15 pm Beijing time (same timeline as ours).