credits: the creative people at
Philboxing.com

Manny Pacquiao is a reconstructive surgeon's best friend. Right now, nobody knows for sure who will Pacman fight. He will fight anybody - the Destroyer - but he is looking for an opponent who will cement his legacy and give him a big payday. It is something that Valero and Soto cannot give our champion.

Just now, Pacquiao and his handlers want to fight De la Hoya.


Manny Pacquiao says he can handle Oscar dela Hoya.
And he wants the fight against the Golden Boy in December.
Pacquiao sounded confident when he said he can handle Dela Hoya, the king of pay-per-view. He said things look bright for the fight to push through on Dec. 6.
Dela Hoya stands 5'10 and has fought his last three fights at light-middleweight (150 lbs) while Pacquiao is a shade under 5'7" and had just moved up as a lightweight (135 lbs).
Pacquiao's trainer Freddie Roach said Pacquiao will beat Dela Hoya with both his power and speed. He said Dela Hoya, at 35 and after 44 big fights, "can't pull the trigger anymore."
For Full Story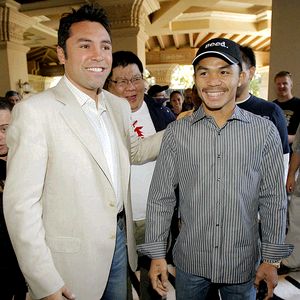 source as usual
Philboxing.com
- support Philippine boxing visit the website!

No, ODLH is just too big for Manny. I'm a Manny fan but this fight is dangerous for him. I understand the economics of course as Pacquiao stands to earn about

twenty million dollars

(almost a billion pesos) if the fight pushes through. There's a reason why there are weight classes in boxing to prevent a huge mismatch such as this. Yes, there's a catchweight (agreed weight for both boxers to reach - some say 147 lbs) however Oscar size and punching power will be too much for a lightweight like Pacquiao.
Between their weight classes there is about a 15 lb-difference. In boxing it is a huge advantage! Even if there's a catchweight - power carries through.

As much as I would like the PACMAN to beat ODLH for not giving the Filipino his credit in PPV sales in the last Juan Manuel Marquez - Manny Pacquiao match (insisting on praising JMM instead), it is almost impossible for the Destroyer to beat De La Hoya.
Size still matters
.
I have a feeling if Manny matches up with ODLH, the former will be the one in need of a reconstructive surgeon.