The Good Samaritan


courtesy of Philboxing.com


Would you help a badly battered opponent even after he said few but trashy things against you as part of pre-fight hype? Manny Pacquiao did and he tried to help David Diaz after knocking the American out. This is a rare sight in boxing though inadvisable. Saying something helpful or just going over to check would have been enough for we don't know if trying to pull Diaz up immediately might aggravate some damaged parts of his body. The action might be a bit flawed but the intention was noble. It is still commendable and I admire Manny for that after all no modern day boxer would do this gesture - no definitely not Diaz, Calzaghe or Pavlik. Some boxers are too full of themselves to even notice (esp. Joe Calzaghe). Pacquiao is not just a simple boxer or legend - he is a great human being too. Can the slapper say that or would he wallow in his cowardice?


He suddenly saw in the opponent a brother in utter distress and, like a passing Samaritan, Pacquiao offered to help Diaz off a deathly cliff.
That he did it before claiming triumph as cameras rolled and the whole world watched was indeed incredible.
Maybe this same thing had happened to other ring greats, Ali, Sugar Ray Leonard, Julio Cesar Chavez, or Oscar de la Hoya himself, but they had left the golden chance at heroism and nobility slip.
Anyway, Pacquiao may have not realized it but, after making his countryman very proud with his conquest of a fourth world crown, he next handed the Pinoy a rare gift. The native nobility Pacquiao displayed in that moment of moments helped immeasurably in telling the world that the Filipino, cheated, cursed, corrupted, is brave, strong, and, last but not the least, worthy of applause and respect. For Full Story
Dramatics aside, this fact alone separates him from other boxers legendary or not - he has heart and shows it on the ring.
Would you do this too?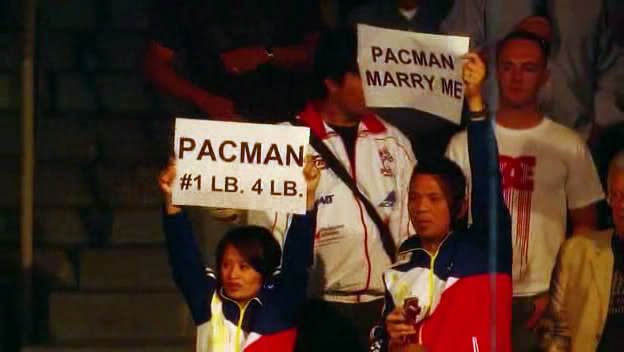 Mahney I'm hereeee sweetieee! It is now legal in California!

source: Philboxing.com

Would you do that? You're a guy and hold up a sign saying "Pacman Marry Me" for the love and adulation of the boxing hero. I bet you won't but this guy would. Described by Associated Press as "overenthusiastic fan" - the fellow holding the "Marry Me" sign told Philboxing.com it was just an intentional joke. He sure did capture the media's attention! He said if his wife did it they wouldn't be able to attract interest. Some people concluded he is from San Francisco (for obvious reasons) but the guy is actually from Los Angeles as his handle indicates in the web site's forum.